When enjoying a fine sekt, don't be afraid to pair it with food. Because of its fine mousse, elegance, bouquet of aromas, and acid structure, sekt is a wonderful companion to a wide variety of cuisines. It's something that's too often forgotten in favor of enjoyment as an aperitif. Don't get us wrong. Sekt IS a wonderful aperitif, but it is also capable of so much more. We're certainly big believers: drink more (good) sekt with your food!
We as a family love the culture of fine sekt & fine food. When paired with a meal, sekt delivers plenty of freshness and remarkable aromatics. In fact from appetizers to desserts, there are few foods sekt DOESN'T compliment.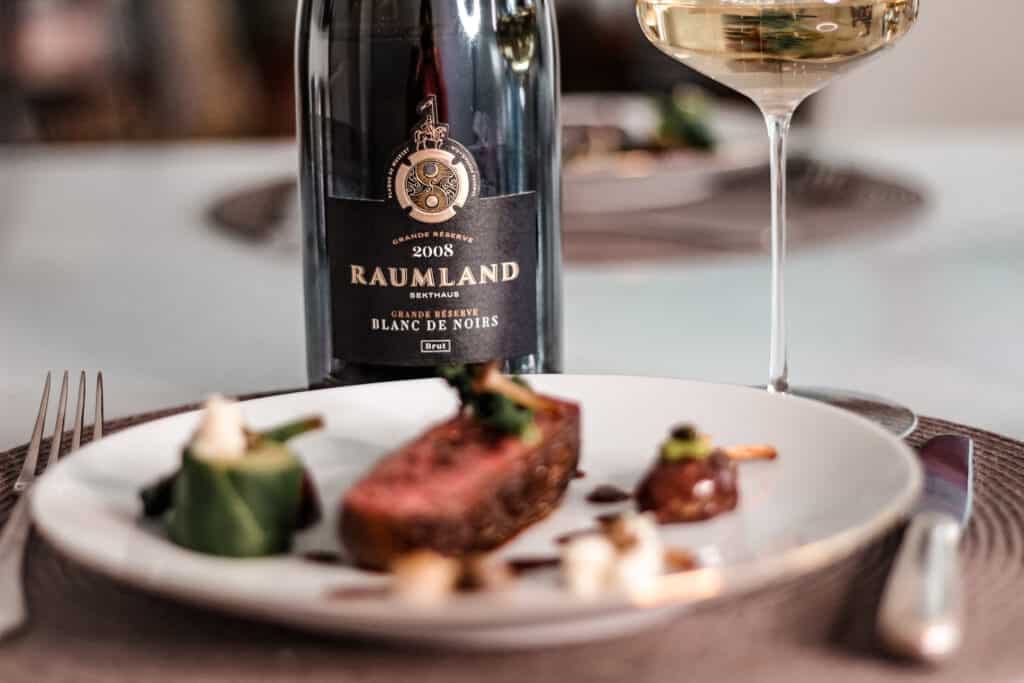 Here's a tip: our 2008 Blanc de Noirs Grande Réserve Brut with saddle of venison
Because sekt by its very nature has higher acidity, go easy on the lemon or hot spices. The carbonation magnifies the "hot" effect of spicy foods.
You don't even need to choose particularly complicated dishes. Here are a few of our favorite recipes:
Spaghetti à la Carbonara with guanciale or Pancetta and fresh organic eggs
White asparagus quiche with Parmesan and ramps or classic Quiche Lorraine
Classic Alsatian tarte flambée
Italian antipasti with creamy burrata and basil pesto
Vitello Tonnato with capers
Beef steak with spicy vegetables and potato wedges
Mushroom Risotto with Gorgonzola
Grilled lamb chops with grilled veggies
Herb-crusted saddle of veal with steakhouse potatoes
Smoked salmon on crispy rustic bread
Burger with homemade beef patties and hamburger bun with Roquefort and pepper salad
Drink more good sekt with your food
We always choose the sekt first, recipe second. But even more important: find your own favorites by starting small—pair sekt to simple dishes. You'll be amazed how well it goes with fattier foods! Don't believe us? Try it for yourself!
More tips on selecting the right glasses can be found here.