Collection
30 years of crafting exellence
The production and maturation of a bottle of Sekt takes just as much time today as in it did in 1984. And this is just right. Because timelessness is most important.
Passion. Precision. Pursuit of perfection. Tradition blends have been a cornerstone of our portfolio since the very start. They typically age for 36 months—three years—on the lees, offering convincing elegance and liveliness. Refined on the palate, full of finesse and fine fruitiness, long on the finish.
Our Réserve sekts are shaped by their long lees contact, at least 90 months—more than 7 years! The autolysis of the yeast produces unmistakable notes of brioche, nut butter, and roasted almond, without ever becoming overbearing. A fine bead meets gorgeous depth and a long finish.
Only the crème de la crème of our sekts receives the title "Grande Réserve": truly exceptional sekt vintages, special sites, highly expressive base wines, and lees maturation of at least 120 months—i.e. at least 10 years. The grapes for this blend come almost exclusively from the Dalsheimer Bürgel, our most important classified single site in Rheinhessen. Bürgel is shaped by fossil limestone, which promotes depth, fine fruitiness, and a balanced acidity.
The new vintages have arrived!
April 2022 marked the release of our new vintages of the Réserve (2013 vintage, after 90 months of lees aging) and Grande Réserve sekts (2010 vintage, after 120 months on the lees). Our MonRose Grande Cuvée Extra Brut has also been re-released, with around 400 bottles available this year.
See the new releases
Plaque de Muselets
"Placomusophily refers to a love for collecting the little metal plates that top the corks on sparkling wine bottles."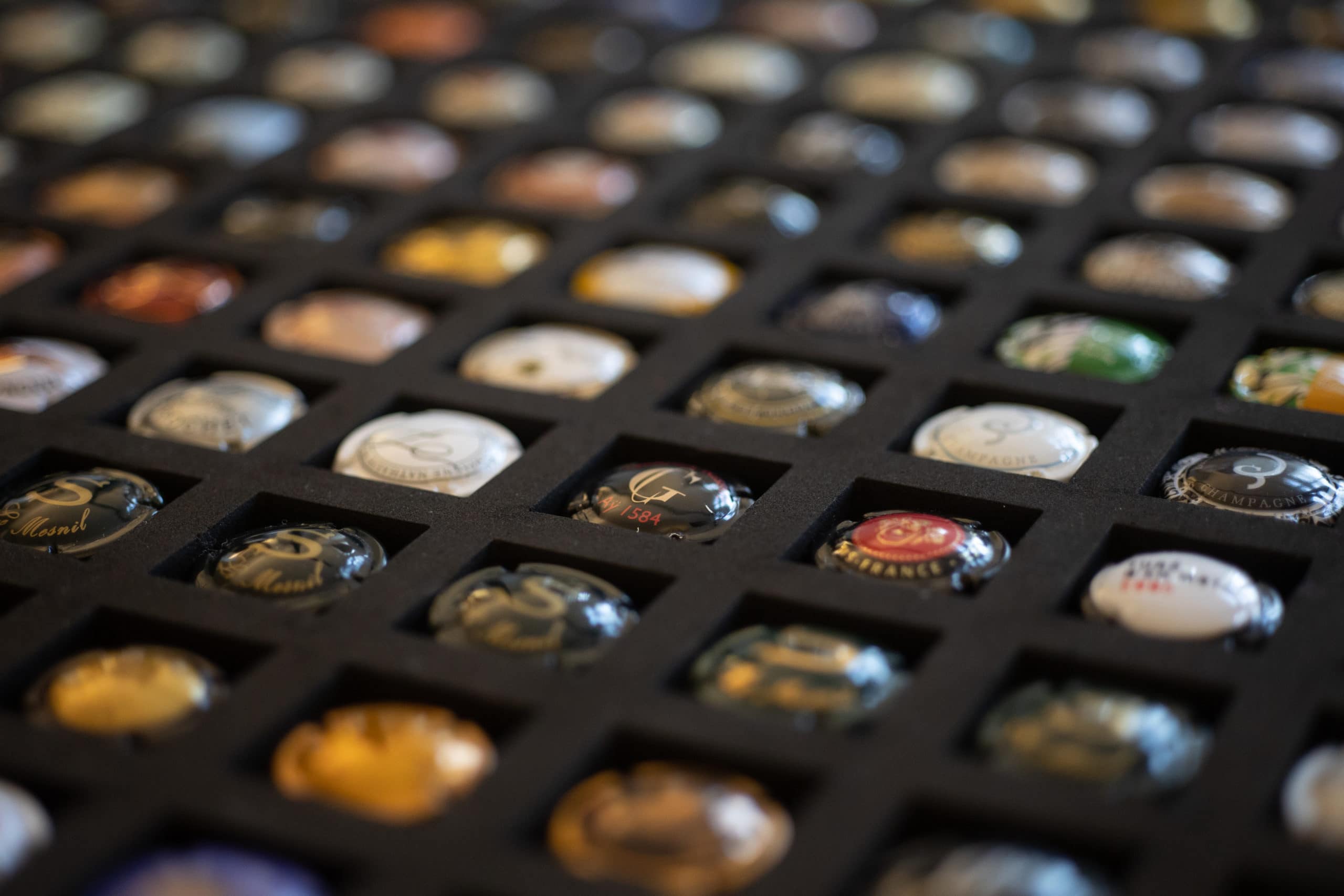 "Plaque de Muselet – the colorful little metal plate that adorns the seals on sparkling wine bottles"
For over 35 years, we've been collecting Plaques de Muselet from the world's best sparkling wines. It's a source of joy for the entire family. At this point we've collected more than 1,000 different Plaques de Muselet from sparkling bottles that we've personally tasted. To be clear, the hobby isn't just about collecting physical objects. It's about preserving memories we've had the privilege of sharing with wonderful and inspiring people.
Each bottle paid witness to a truly special moment, and those are precisely the moments we cherish. Tradition, Réserve, and Grande Réserve sekts each have their own Plaque de Muselet—on the corks as well as the label. In this way, each sekt becomes something enduring, beyond the wonderful moment in which it was consumed.
Awards
We are proud and honored to have received the following awards.
Falstaff Sparkling Special 2022
(1st, 2nd & 3rd Place – Category "Blanc de Blancs") (1st place – Category "Brut Nature") (2nd Place – Category "Blanc de Noirs")
Vinum Weinguide 2022
(Germany's Best Grower Sekt—2008 Blanc de Noirs Grande Réserve)
Eichelmann 2021
(5 of 5 stars—"World-Class Wine Estate" category)
Meininger Deutscher Sektpreis 2021
(Best German Sekt – "Prestige Burgunder" category)
Meininger Deutscher Sektpreis 2021
(2nd Place – "Prestige Burgunder" category)